Have you seen the new Quilt 'n Stitch Marketplace?  It's a wonderful new venue with a two-fold purpose:
1) to provide a marketplace for shop owners to showcase their products to customers and to build relationships with other like-minded businesses,
2) to provide a forum for customers to get to know each other, share their projects, search for that special pattern or fabric, or just chat with others that share the same passion as you, including shop owners and designers.
One of the best part of Quilt 'n Stitch, though, is that they like to have FUN!  Giveaways, games, you name it, it's all there.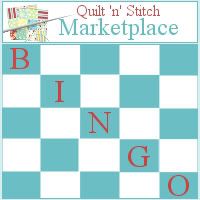 They've just recently posted all the info for their first BINGO game, and trust me, you don't want to miss out on this one.  It doesn't cost anything to join and you don't have to "find" anything to play, and the prize is wonderful!





To get in on all the fun, follow these simple directions:
1.  Go to www.quiltandstitchmarketplace.com
2.  Highlight the word "Forums" and click on "Register."
3.  Once you've registered, enter the forum and look for the topic that says "BINGO."  Click on it.
4.  Then click on the topic "Please join us for our first BINGO game at QnS…."  This is where you'll find everything you need to know to participate. 
5.  Once you've got all this info, click on the topic "Bingo words" and select your 25 words and email them to Katie.  She needs to have your list of words by Sunday July 26th at 12:00 PM ET (noon).
6.  Get ready to have some fun!  Beginning Monday the 27th, she'll post five words each day until someone reaches BINGO!
THE PRIZE!
All games at Quilt 'n Stitch have wonderful prizes and this one is no exception!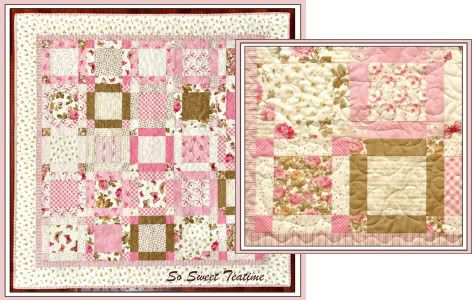 The"Sew Sweet Teatime Kit is a truly beautiful small throw.  This kit features the newest fabric collection from Holly Holderman for Lakehouse Dry Goods, Teatime Florals.  This quilt was made very scrappy, so your kit includes 16 fat quarters plus the inner border, binding and outer border yardage.  You will have leftover fabric, differently. Oh what a shame!!!
The finished throw measures 52 1/2" square.  It is so quick and easy and such lovely fabrics to work with. "
Retail Value $71.99
This Beautiful prize is donated by Barb at "The Quilted B".
It doesn't get much better than that!  A super fun game and a gorgeous prize.
I hope you'll all come over and join us at Quilt 'n Stitch!
See you Monday at Bingo!